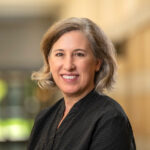 Thursday, October 20, 2022
by Dr. Lisa Schirch
Starmann Chair in Peace Studies, Kroc Institute for International Peace Studies, University of Notre Dame
South Haven Campus of Lake Michigan College | 7 p.m.
Dr. Lisa Schirch will provide a survey of the best and worst impacts of technology on polarization and social cohesion. Highlighting case studies and examples in the US within the context of a tense US election, she will explain how the designs of some technology platforms like Facebook and Twitter seem to encourage polarization, and then explain some new tech platforms that can help build greater trust and care among Americans.
Lisa Schirch, PhD is Professor of the Practice of Peacebuilding and the Starmann Chair in Peace Studies at the University of Notre Dame's Kroc Institute for International Peace Studies. She also directs the Social Media, Technology, and Peacebuilding program for the Toda Peace Institute. A former Fulbright Fellow in East and West Africa, Schirch is the author of eleven books, including Social Media Impacts on Conflict and Democracy: The Tech-tonic Shift.
Admission is $10. Students, educators and clergy admitted free. The doors will open 30 minutes prior to the presentation. COVID protocols will be observed.